"I Can't Believe This is Kyiv"
"No music is playing anywhere – complete silence in a city of a million people…"
Letters From "Agatha", a 19-Year Old Kyiv College Student
I moved to Kyiv in 2019 to enter the university. I chose this city because of its prospects and opportunities. Many people don't like Kyiv because it is very noisy, all people are in a hurry somewhere and everyone is busy with their own problems, the city lives in a frantic rhythm, but that's what I liked about it. Kyiv is very beautiful, green and free. Once, someone told me that usually there are parks in cities, but Kyiv is a park in the city. It's true, it is very green and fresh, especially in summer. This city doesn't end at it's immediate borders because its suburbs are no less beautiful. Irpin, Bucha, Vyshneve are wonderful places to live, so I moved a little out of town, but every day I went to Kyiv to work, study, hang out with my friends and live my best life. Until February 24th.
I was in Kyiv for the last time on February 23, not even suspecting that I wouldn't come here tomorrow, nor in a month. As usual, I was returning home after a working day, on the way I went to the store and was thinking about what I would do on the weekend. But the morning of February 24 divided my life into "before and after" and I never went to Kyiv that day.
A month and a half later, the authorities reported that the Kyiv region was liberated and that it wasn't so unsafe here. I was very happy and immediately decided to go. I needed to see a doctor, and I really wanted to see my beloved Kyiv and take a little walk, because the weather was beautiful. I had planned this trip a week in advance and was looking forward to this day.
Here I am already in Kyiv, walking along the familiar streets but I don't recognize anything here at all. The whole city is covered in darkness. In the very center of Kyiv which usually is a place that would have been full with walking people, there was almost no one. I could count people on one hand. Almost all shops and cafes are closed, and few people had gone back to work. There are a lot of roadblocks around and soldiers who check documents at every corner, and military vehicles drive around. None of the people are smiling. No music is playing anywhere – complete silence in a city of a million people, in the capital of my country. It all looks like some kind of horror movie about the apocalypse, like some villain covered the city with a dome and everything became gray and gloomy.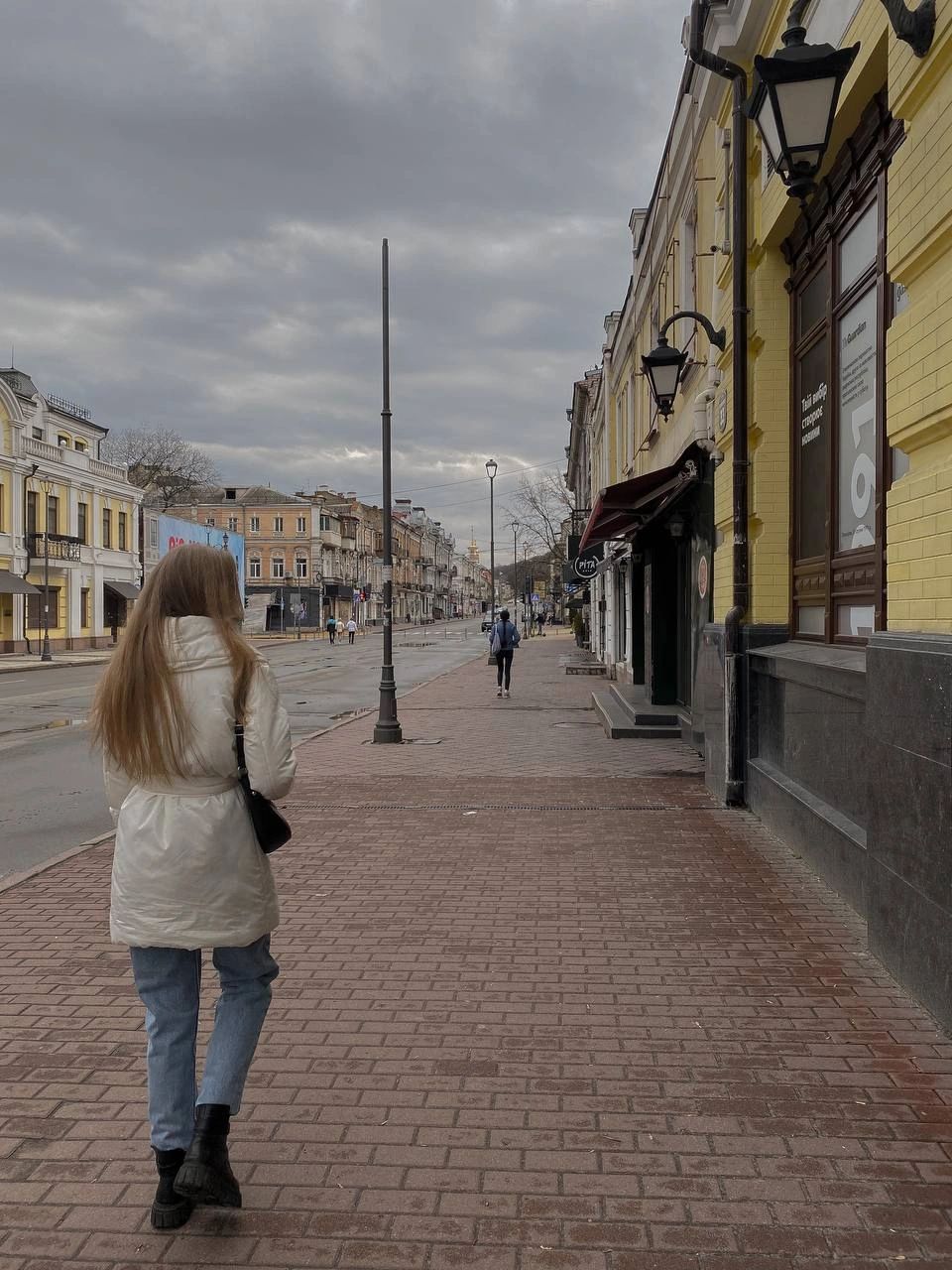 Returning home, I have terrible feelings from what I saw. I can't believe that this is Kyiv, it doesn't look like it at all. This trip plunged me even more into reality, into all the horror that has been going on for 47 days and won't stop. I want to believe that I will see the real Kyiv, noisy, cheerful and free – at least before this year's end.
Agatha